World Police and Fire Games 'well below 10,000 target'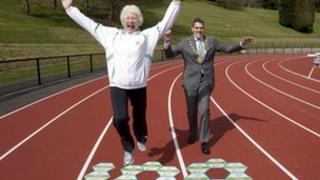 With 100 days to go until the staging of the World Police and Fire Games in Northern Ireland, the number of competitors registered is still well below the 10,000-target.
Just over 4,300 athletes have registered so far, in advance of the multi-sports event in August.
However, organisers say thousands more registrations are in the pipeline.
They are hopeful that the 10,000-target will be met before the games begin on 1 August.
The games - regarded as the Olympics for serving and retired fire and police officers - were last held in New York in 2011.
Competitors from more than 50 countries have signed up for this year's games, in the various sports which range from 10-pin bowling, to tug-of-war to table-tennis.
The total number of athletes so far is 4,348 - that is below the 10,000 target, but organisers insist there is no reason to be concerned.
They say another 2,706 registrations are in the pipeline and that the games always attract a last-minute rush.
A spokesperson for the games said: "Pipeline registrations are team members whose captains have already registered. In total, 54 countries are represented with 35% of those registered coming from USA, Canada and Australia."
For every competitor who signs up for the games, at least one visitor is also expected to come to Northern Ireland, resulting in a £15m boost for the economy.
John Tully, chief executive of the 2013 World Police and Fire Games, said: "We aim to deliver the friendliest games ever and we are confident that goal will be achieved, which will not only make a significant contribution to the local economy but also positively enhance Northern Ireland's image worldwide as an excellent host for major events."
A range of different venues are being used, ranging from cycling at Stormont to surfing in Portrush to karate at the Shankill Leisure Centre in Belfast.
Belfast Lord Mayor Gavin Robinson said: "This is a wonderful opportunity for visitors to experience our world class facilities, and I am delighted that the economic benefits for Belfast and further afield will be enormous".
Among those who have signed up already is a firefighter from Texas who is coming to the games in Northern Ireland with his wife, as part of their honeymoon.