Dissidents renew threat to kill McGuinness say Sinn Fein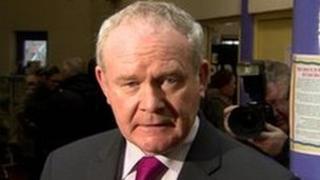 Sinn Fein has said the police have warned the deputy first minister Martin McGuinness of a renewed threat from dissident republicans.
The party has revealed that Mr McGuinness' wife, Bernie, has also been verbally abused outside their home in the Bogside.
In March, Mr McGuinness said a senior police officer informed him of "a real and active threat against his life from a dissident group in Derry city".
Sinn Fein MLA, Raymond McCartney, said the threat was being taken seriously.
"Those responsible are manipulating young people to attack Martin McGuinness," he said.
"There have been a number of attacks on Martin's home and a verbal attack on his wife.
"They made comments about her family and about her husband. Bernie isn't a very public person and Martin tries to protect his family from public life."
Mr McCartney said police told the deputy first minister that he was being threatened by "anti peace process elements".
He said the people responsible should stop.