Shared education: Northern Ireland pupils give their opinions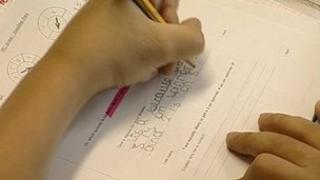 Hundreds of pupils in Northern Ireland have been asked their opinions of the way their schools share classes with pupils from other sectors.
Many of them had never heard of shared education, but some had ideas about how it could be improved.
The survey of 750 pupils, in a range of age groups and school types, was carried out last year.
It was used to feed into the controversial report on Shared Education published this week.
At that stage, most pupils had not heard the term, even though eight out of the 10 post-primary schools were actually taking part in sharing schemes.
Around three quarters of pupils liked the idea of sharing with pupils from a different religion.
More than half thought it would be good to make new friends and a quarter wanted to use sport facilities and computers at the other school.
Three quarters were worried that pupils in the other school might be rough or nasty and half of older pupils worried about having to travel to share classes in a different school.
Very few were concerned about mixing with children of another religion, but those who did have worries about it talked about possible sectarianism.
Some grammar school pupils were reluctant to have joint classes with non-grammar schools because they felt academic abilities would be lower.
Non-grammar school children worried that grammar school pupils looked down on them and thought they were stupid.
About half of pupils did not like the idea of pupils from another school coming into their building.
They were worried about overcrowding, potential disruption and the fear that they might not like the attitude or behaviour of the other school's pupils.