Gerry Adams did not confront brother Liam, court told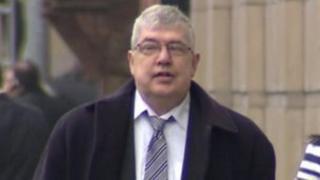 Liam Adams told police his brother, Sinn Fein leader Gerry Adams, did not confront him about child sex abuse allegations, a court has heard.
Liam Adams, 57, from Bernagh Drive in west Belfast, denies 10 charges of sexually abusing his daughter Aine.
Belfast Crown Court heard details of police interviews with Liam Adams from 2007, when the accused was arrested.
In them, he denied all the allegations which were put to him.
In his evidence on Monday, Gerry Adams said he had gone for a walk with Liam in 2000, during which Liam had acknowledged he had abused Aine.
The court has also heard that Gerry Adams set up a meeting between himself, the accused, Aine and her mother in Buncrana in County Donegal in 1987, at which Liam Adams had denied the allegations.
But Liam Adams told police that meeting had never happened.
He said he was living in Dublin, not Donegal, in 1987.
A detective told the court that Gerry Adams had detailed the alleged meeting in Buncrana in his first statement to police, which he gave in 2007.
During cross-examination, a defence lawyer asked a detective: "Did he (Gerry Adams) say anywhere in this detailed three-page statement that his brother had confessed to him?"
The detective replied that Gerry Adams had not.
The defence lawyer also put it to the detective that an alleged admission would have been "a potentially explosive piece of evidence, coming from a man of international standing".
The detective said: "If a person had that knowledge it would be important, regardless of the person's standing."
The court also heard that police had put to Liam Adams a statement from his daughter Sinead in which she said that in 2003, he had told her he had abused Aine.
The accused told police: "I utterly refute that."
The case continues.