Protestant Coalition emerges as NI's newest political party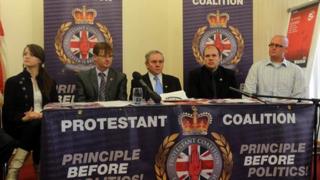 A new political party has been registered in Northern Ireland.
The Protestant Coalition's website states it is an "anti-politics, political party" whose priority is "the empowerment of the PUL (Protestant Unionist Loyalist) community".
The party's electoral profile lists the party's leader as James Dowson.
Mr Dowson, a former British National Party fundraiser, is currently on bail over protests connected to the union flag's status at Belfast City Hall.
On its website the coalition said it has "no political ambitions" and is constituted for three years.