Translink bus, coach and rail fare increases criticised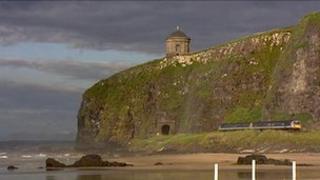 Translink is increasing fares across its bus, coach and rail services.
Ticket prices will increase by an average 3% on Metro and local Ulsterbus routes and by 5% on NI Railways.
The increases will come into effect on 6 May 2013.
The Consumer Council and the Committee for Regional Development have denounced the rises.
Translink's chief executive Catherine Mason announced the changes at a meeting with the committee.
Committee chair Jimmy Spratt MLA told the meeting that when Translink announced in 2012 it was facing £17m losses "the committee stated that the department would respond to Translink threats to increase fares with a bailout".
"We are proven to be right - almost £8m of bailout money was given to Translink by the department this past year," he said.
"However, the committee has now learned that Translink has also identified £5.8m in reserves".
Mr Spratt said the committee would press the department and Translink to identify how much of the reserves remain, where they came from and why the public and taxpayers are bailing out a commercial organisation when "it appears to be sitting on a substantial pot of money".
"The department has tried to sugarcoat these increases by saying that rail fares will be held until 2015 and that these increases are less than any in the UK and Ireland," he said.
"That will be of little consolation to those hard-pressed customers who have shown faith in Translink over the years, particularly in the very difficult economic situation in which we find ourselves. "
'Already struggling'
Ciaran Rogan Translink's marketing executive said the company's fares "have not kept up with inflation" and this would be the first increase on some fares for five or six years.
"We know any increase is unwelcome but I would urge customers to start paying the lowest fare for their journey," he said.
Mr Rogan recommended passengers take advantage of Translink's multi-journey travel cards.
"These fare changes compare very favourably to the increases that have been imposed across GB and Republic of Ireland and we believe our local passenger transport remains a very attractive and competitive choice compared to the cost of running a private car," he said.
The Consumer Council said increasing public transport fares would be an added burden to people already struggling to make ends meet.
Consumer Council director of policy, Aodhan O'Donnell said the announcement was "more bad news for consumers at a time when the cost of living is increasing but incomes are not".
"Consumers consistently tell us that fares are the most important aspect when considering whether to use public transport, so this will do nothing to achieve the NI Executive's objective of getting more people out of the car and onto public transport," he said.
"In previous years many of the fare increases could be avoided by using Smartlink cards.
"This year fares are increasing across a wide range of ticket types including Smartlink cards, park and ride and airport services.
"A number of fares are increasing at a higher rate than the average that is being reported. Therefore, the Consumer Council is advising passengers to check with Translink to find out what their new fare is going to be."