Pseudomonas bug found at South West Acute hospital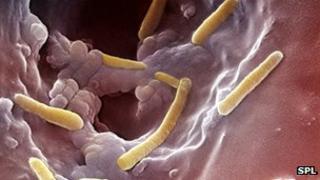 Pseudomonas has been found at the South West Acute hospital, the Western Health and Social Care Trust has confirmed.
Routine testing detected the bug, which can cause serious infection in those already weakened, in some water dispensers at the hospital.
Last Friday, the hospital took the precaution of removing all dispensers until investigations were completed.
The hospital, in Enniskillen, County Fermanagh, said all tap water was drinkable and safe for use.
The Impartial Reporter broke the news that traces of the bacteria had been found in the water.
A spokesperson for the Western Health and Social Care Trust said: "The public can be assured that this is not an issue with the water quality of the main water supply at the hospital, but is an isolated issue with the water dispensers themselves and has had no impact on patient care."
Pseudomonas is a tough strain of bacteria that is found widely in soil and stagnant water.
It can infect humans but does not usually cause illness in healthy people.
However, it can cause serious harm to vulnerable hospital patients with weakened immune systems, such as premature babies.