Irish love letter warms hearts of east Belfast speakers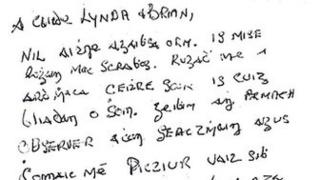 It was a letter written in a shaky hand by an 85-year-old man and his kind words warmed the hearts of a fledgling Irish language community in east Belfast.
He had been born in Armagh 85 years ago and now lives in Derry, he wrote in fine Old Irish script.
He likes to keep up with home and he read in the Armagh Observer about how the loyalist community had connected with the Irish language. It heartened him.
It is "our lovely language" said the letter writer - and he included a cheque for £100 to help someone else learn Irish.
It was a gesture that touched Linda Ervine's heart.
She started classes in September at the East Belfast Mission - from one class, the project has grown to five classes.
She takes her work out into the community telling them about the hidden history of Protestants and the Irish language.
Outside on the Newtownards Road, Belfast, union flags and red white and blue bunting flutter in the breeze.
Inside, people are connecting with a language that few Protestants learned at school.
It is a tongue from which many felt alienated or considered politicised in a way that excluded them.
But the winds of change are blowing.
Since Linda became Irish language development officer at the East Belfast Mission last September, interest has grown. Her classes include an inter-generational one where all ages can learn together.
Linda's love affair with the language began after she discovered from censuses that not only did some of her own ancestors speak Irish but that it was also widely spoken in several of the streets in east Belfast.
In many ways, it is a "coming home" and Linda has been warmed by the Irish speaking world's response.
"We have been shown such grace and kindness from the Irish language world," she said.
"I feel very humbled and touched by the letter and the gift of £100.
"We will give the money to one of our teachers who works free of charge. He is such a fantastic teacher and he is helping 20 learners every week."
In the same week that the Armagh man wrote to Linda, Gaelchultur in Dublin sent learning resources worth £100.
"Cluain Ard and the Ultach Trust have also been very good to us. People are so generous," she said.