Savers reassured as Portadown Diamond Credit Union wound up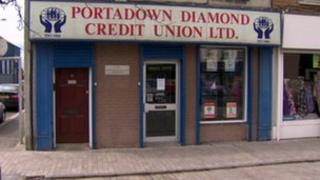 A Northern Ireland credit union with more than 1,300 members has been wound up.
Portadown Diamond Credit Union was wound up by the High Court on Thursday following a petition from its directors.
The Financial Services Compensation Scheme (FSCS) has said the overwhelming majority of savers will get their money back within seven days.
Those with loans from the union will continue to repay on the same terms.
People with less than £1,000 saved will receive a letter to get cash over the counter at their post office. Anyone with more than this will receive a cheque.
FSCS protects up to £85,000 of savings or £170,000 for joint accounts. It has come to the aid of more than 4.5m people since 2001 while paying out billions of pounds in compensation.
According to its last set of accounts the credit union had begun legal action against a member for non-payment of a £300,000 loan, a large part of its total £1.9m loan book.
The winding-up order was supported by the body that regulates credit unions and a liquidator has been appointed.
The credit union in question is different from Portadown Credit Union, which said it was "fully functional".