Ulster canal: Attwood gives go-ahead for cross-border restoration plan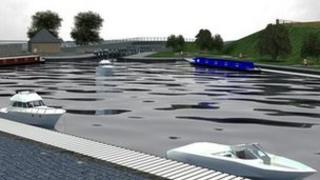 Part of the Ulster canal that has not been used since 1929 is set to be restored after the environment minister approved a major cross-border scheme.
Alex Attwood has granted planning permission to restore nine miles of the waterway from County Fermanagh to border counties in the Irish Republic.
He said it offered "huge opportunities" for regeneration and leisure pursuits.
The construction includes four new road bridges, a 550 ft mooring, two car parks, public toilets and a picnic area.
It requires reciprocal approval from planning authorities in the Republic, but Mr Attwood's department said the southern section of the plan was expected to be passed by the local councils involved.
The Ulster canal was completed in 1841 and linked the Erne to Lough Neagh.
'Tourist attraction'
Its navigation begins in Upper Lough Erne at Quivvy Lough in County Fermanagh and it crosses the border three times at locations in County Cavan and County Monaghan.
The application was submitted by Waterways Ireland, the biggest of the six cross-border bodies set up as a result of the Northern Ireland peace process.
In total, is it expected to cost in the region of £29m.
Waterways Ireland plans to restore three and a half miles of river navigation from Quivvy Lough to Gortnacarrow in County Fermanagh and five miles of canal from Gortnacarrow to Clones in County Monaghan.
The construction work will follow the original canal route and public tow paths will be created on both banks.
The four bridges are to be constructed at Derrykerrib, Wattle Bridge, Gortnacarrow and Clonfad/Munilly.
The mooring will be built at Gortnacarrow, where 32 car parking spaces and public toilets will be constructed.
"The plan is to restore two existing canal bridges and a double lock at Gortnacarrow that will facilitate a rise from the River Finn to the canal section," a DoE statement said.
A further 20 parking spaces and a picnic area will be created at Clonfad/Munilly.
'Turning point'
Mr Attwood said: "The Ulster canal restoration project has been a key heritage and tourist attraction for a long time, which has gathered momentum since the late 90s."
The minister described the granting of planning permission as a "turning point" for the project and said he hoped that giving it the green light would mean the scheme could now accelerate.
"This is an example of cross-border initiatives working and working well. It follows from my announcement to give planning permission to the bridge at Narrow Water, linking Warrenpoint and Omeath, " Mr Attwood added.
"This cross-border project will be a boost for the people of Fermanagh, Cavan and Monaghan. It will re-open a historic waterway that has not been used for over 80 years and offers huge opportunities for regeneration and leisure-related activities for the entire region."
It is expected that the work will take three years to complete.