Cardiff talks not about brokering parade deal: PSNI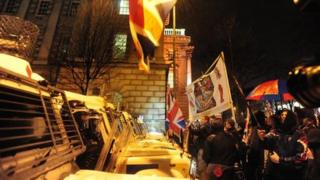 George Hamilton shakes his head when asked if the police are hoping to broker an agreement to prevent violence during the marching season.
The assistant chief constable has organised two days of talks in Cardiff involving senior police officers, politicians and representatives from loyalist and republican communities in Belfast.
"This is not a negotiation," he said.
"This is not about trying to broker an agreement on parades or anything else. Those attending the talks aren't going to be asked to sign up to anything. This is about us engaging with the community we police."
While the police are keen to stress that the talks are not a summit on parades, the issue will clearly be on the agenda.
A letter inviting the delegates to take part referred to the recent flags protests in Belfast and the impact they may have on forthcoming parades and protests in the city this summer.
The idea for the Cardiff talks was formulated after loyalists and republicans criticised the PSNI for the way it responded to the flags protests.
"There was a perception in the republican community that we had not done enough to stop the protests and parades.
"People said we had stood by and facilitated unnotified parades past nationalist areas," explained Chief Superintendent Mark Hamilton, who will also attend the event.
"On the other hand, there was a perception within the loyalist community that we had been heavy handed and that we would not have treated republicans in the same way.
"There have also been complaints about how we conduct house searches and respond to public order incidents. We recognised there were tensions between some communities and the police and we wanted to do something about that. We believe there is value in talking to the communities we police."
The PSNI says the talks are not unusual and that similar engagement takes place between the police and many of those going to Cardiff on a regular basis.
'Neutral space'
So if that is the case, why take them to Cardiff if they already talk regularly in Belfast?
"We wanted to bring them to a neutral space, somewhere they could talk without any distractions," Mark Hamilton said.
"The intention is to have private talks, not secret discussions, and we thought it best to go out of Northern Ireland to give everyone a bit of space."
So who is going?
The PSNI will be represented by two assistant chief constables, George Hamilton and Will Kerr, Chief Superintendent Mark Hamilton and three operational commanders from Belfast.
All of the main local political parties will be represented.
The political delegates will include Gerry Kelly of Sinn Fein and Conall McDevitt of the SDLP, while the DUP will be represented by Nelson McCausland and Jonathan Bell, and Ulster Unionist leader Mike Nesbitt will also be there.
The Alliance Party will be represented by Richard Good, special adviser to justice minister David Ford, and Chris Lyttle.
Loyalist community representatives include UDA leader Jackie McDonald and his colleague John Bunting, and Winston Irvine and Rab McCartney of the Progressive Unionist Party, the political representatives of the UVF.
Senior republican Sean 'Spike' Murray and Joe Marley of the Crumlin Ardoyne Residents' Association (CARA) are also taking part in the discussions.
Others include former Presbyterian moderator the Rev Norman Hamilton, Liam Maskey and John Loughran of the Intercomm Project in north Belfast, and independent Policing Board member Debbie Watters.
The discussions will be led by a team of facilitators from the University of Ulster and Stanford University in California.
The bill for flying the delegates to Cardiff and putting them up in the venue, a four star hotel, is expected to be in the region of £26,000, with the cost shared between the PSNI and the Northern Ireland Office.
The police have said they believe the initiative provides value for money.
"We spend millions of pounds every year policing public disorder, and that's not including the cost to tourism and the economy," George Hamilton said.
Operation Dulcet, the police response to the flags protest, has cost more than £23m and last year the cost of policing disorder during the marching season was around £7m.
'Channels of communication'
"These talks are about trying to reduce tensions between loyalist and republican communities and the police. Community representatives often accuse us of only being interested in talking to them after something goes wrong," ACC George Hamilton said.
"This is about trying to do something a bit more strategic, to gain a better understanding of where they are coming from, and also set out our position.
"We are hosting this event, but the discussions will be guided by professional facilitators. This is not about the PSNI trying to impose a solution or agreement.
"We are trying to create channels of communication that can be used to help reduce tensions in more difficult times. If this helps reduce tensions and helps reduce the potential for violence then it is a good thing for police to do."
The police insist the fact they are talking to politicians and community representatives about their tactics and response to parades and protests does not mean they are seeking permission to police those areas.
"Not at all," said ACC Hamilton.
"We will be listening to concerns raised, but we will also be setting out our statutory duty to uphold the rule of law, and the consequences for anyone who breaks the law.
"We will discuss our tactics and explain why we do what we do and why we respond to certain situations in a particular way.
"But this is not about ceding operational control or seeking permission to do what we do. It is about engagement and trying to give people a better understanding of our position, as well as us listening to their concerns and issues."