John O'Dowd makes changes to A-level exam re-sits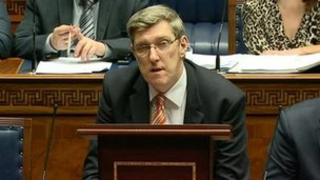 Education Minister John O'Dowd has decided to partially change the A level exam system in Northern Ireland.
His plans fall short of the reforms planned for England where A levels will revert to a linear system of exams at the end of a two-year course.
Mr O'Dowd said he was keeping the modular system of exams in place but is removing the January re-sit. He will allow a June re-sit.
The change will come into effect in September 2013.
The education minister said he would permit those who had currently embarked on A-level study to have a re-sit opportunity in January 2014.
"There will also be one re-sit opportunity for AS and/or A2 permitted in June of each year," he said.
Unlike the plan for England, Mr O'Dowd's plan will keep the AS course as a component of the final A level qualification. In England, they will be two separate qualifications.
However the minister plans to reduce the value of an AS. It will in future be worth less than the final year exam: the A2.
"I have also asked the Council for the Curriculum, Examinations and Assessment (CCEA) to consider a change to the weighting of AS/A2 from 50:50 to 40:60," he said.
Last year the Education Secretary Michael Gove proposed that all A-levels in England would be linear, with the AS level being a standalone qualification.
Mr O'Dowd and his Welsh counterpart expressed their displeasure after Mr Gove made the announcement about the exam changes without consulting either of them.
Repercussions
Mr O'Dowd has previously said that changes in England should take into account the repercussions for pupils in Northern Ireland.
In relation to the proposed formation, in England, of a group set up by the Russell Group of universities, to determine the content of A levels there, Mr O'Dowd said: "I do not agree with any decision to allow the Russell Group of universities to take the lead in this matter.
"I will await further developments in relation to this proposed group before making any definitive decision on their involvement in A levels set here.
"However, CCEA will continue to work with all institutions to ensure comparability of standards with other jurisdictions."
Mr O'Dowd said he believed the changes he had announced would ensure that Northern Ireland's A-level qualifications remain "equitable, robust and portable" and "credible in the eyes" of higher education institutions and employers.
"They fully protect the interests of all learners and give them every opportunity to progress in their chosen career path," he added.
NUS-USI student movement president Adrianne Peltz said that removing the January re-sit option for new A-Level students, and the potential change to the AS/A2 weightings were both retrograde steps.
"I am extremely concerned that the removal of the January re-sit option for new A-Level students could disadvantage students and provide them with less opportunities to reach their potential. I am also worried that the potential change of weighting as regards AS/A2 qualifications could undermine AS levels.
"Qualifications here must retain their integrity and must be transferrable to ensure that when people gain qualifications, they are not disadvantaged when they seek to study or work elsewhere in the UK, or in Ireland or further afield.
The Council for the Curriculum, Examinations and Assessment (CCEA) welcomed the plans.
CCEA Chief Executive Richard Hanna said: "The minister has provided timely direction which will provide greater clarity and reassurance for teachers, students and the wider community.
"We welcome the decision to remove the January series of A-level examinations, which principals have told us increasingly eats into valuable teaching time. The decision to maintain the linkage of the AS level to the full GCE A-level is also welcomed."
The return to a linear form, with exams at the end of a two-year course will take effect in England in 2015.
A consultation on a wider review of GCSE and A-levels is still open and anyone who wishes to respond is encouraged to participate in the online survey by 31 May 2013.