Invest NI Jobs targets 'could be seen as soft'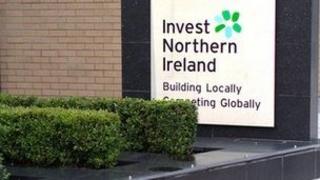 Invest NI job performance targets could be perceived as "soft", according to a new report.
The Stormont Public Accounts Committee (PAC) report said it had seen "little evidence of meaningful, independent validation" of the organisation's performance data.
The report makes nine recommendations.
These include the setting of formal targets for actual jobs created, as opposed to posts a company hopes to establish with Invest NI help.
In future Invest NI will be able to track jobs created.
It implemented a new monitoring system in 2012 but because most projects take years to bear fruit it may be some time before there are any meaningful figures.
However, the committee said Invest NI had acted belatedly.
Disparity
"We are disappointed that systems which will track whether jobs are created or retained have only been implemented recently," said Michaela Boyle, chairperson of the committee.
Invest NI has spent £520m in grants over the past 10 years.
But it was unable to tell the PAC if five companies had lost any jobs during a period in which they received £144m in aid.
"Tracking and measurement of such basic outcomes by Invest NI should have been much stronger," the report stated.
The PAC also said Invest NI's current target for promoting investment from overseas companies in disadvantaged areas "needs to be strengthened sufficiently."
The PAC added it was concerned at the marked disparity between areas of Northern Ireland when it came to investment.