John O'Dowd complains to Michael Gove over leaked letter on exam system split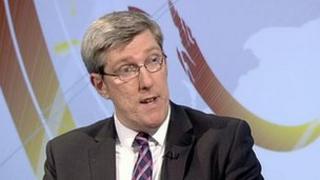 Northern Ireland's education minister has written to his counterpart in England to complain over the leaking of a letter about major exam changes.
The leaked letter, written by Education Secretary Michael Gove, outlined his plans for a split in the GCSEs and A-level systems in England, Wales and NI.
Stormont Education Minister, John O'Dowd, said he was "shocked that an almost verbatim report of our meeting last week appeared in the media".
He said the leak was "unacceptable".
In a statement on Tuesday, Mr O'Dowd said: "I have written to Michael Gove this morning to express my disappointment over the fact that his letter to me of yesterday was leaked within an hour of me receiving it."
The Sinn Fein MLA added: "Correspondence between ministers should be treated with respect and I believe that such practices are totally unacceptable.
"I sincerely hope he agrees and that he takes whatever action necessary to ensure the sanctity of ministerial meetings and correspondence is upheld by his department to the highest standard."
Mr Gove held a meeting with the Welsh and NI minsters in London last week, to discuss his plans to toughen up GCSE and A-level exams.
Previously, Mr O'Dowd and his Welsh counterpart had expressed frustration that the education secretary had made public announcements on the exams system without consulting either minister.
Following the meeting, Mr Gove assured both men that despite earlier disputes, there would be full consultation about future changes.
In his subsequent letter to the pair, dated 20 May, the education secretary said the meeting of 13 May had resulted in his belief that it was time for England, Wales and Northern Ireland to go their separate ways on the exams.
Mr Gove's correspondence was leaked to the press on Monday evening.
He wants to press ahead with his planned reforms, but as Northern Ireland and Wales are moving at a more cautious pace, has said they should separate, with England retaining the GCSE and A-level exam titles.
However, Mr O'Dowd said: "In my opinion, we can have a common A-level name, we can have a common GCSE name. It can be delivered in slightly different ways.
"It is the robustness of the exam that is the important thing."