Derry paramilitary punishment shooting liaison sought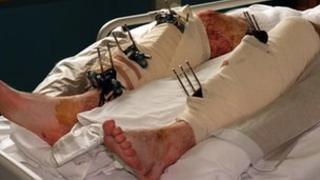 A Londonderry resource centre is to employ workers to mediate between paramilitaries and people they have threatened to murder.
Rosemount Resource Centre has tried to have threats and expulsions orders lifted by going directly to groups like RAAD (Republican Action Against Drugs) and the so-called New IRA.
The salary for one of the new positions is more than £22,000 a year.
The IFI (International Fund for Ireland) is to provide the funding.
The Rosemount Resource Centre's Peace Impact Programme (PIP) is designed to help young people who are vulnerable to attack or recruitment by paramilitaries.
Two job descriptions have been seen by the BBC, one for a co-ordinator and one for a community support worker.
The successful candidate for the £22,199-a-year co-ordinator position will "engage with threat-making agencies on client's behalf to seek alleviation of immediate threat and agree alternative paths to improvement".
The co-ordinator will "develop opportunities for clients to review their lifestyle choices and to access appropriate support to change behaviour" according to the document.
Other details in the specification include: "enabling both effective intervention/mediation on clients behalf whilst ensuring the legal and moral integrity of the project" and to "ensure that contact with all participants does not jeopardise either the client or the project".
Essential knowledge listed for the position includes "knowledge of paramilitary punishment activities, the history and social implications".
The community support worker "will be required to work with and on behalf of young people whose risk-taking activities have brought them to the attention of outside agencies (both legal and non-legal) and may have put them in danger of punishment".
'No control'
Tommy McCourt, manager of Rosemount Resource Centre, rejects the suggestion the role primarily deals with paramilitaries.
"A threat-making agency to a young kid of 14 or 15 could be a school teacher in his school, it could be his friends down the street, it could be his local community, it could be all sorts of people," he said.
"We're referring to all of those, anyone who will threaten a young person, that's who we're talking about.
"That includes paramilitaries, but it also includes statutory agencies. The people that sell them the drugs are threats."
Mr McCourt said the programme had been running for almost two years and had already helped over 300 people.
"If I'm taking drugs my life is under threat, it's under threat from the drugs, it's under threat from the lifestyle, it's under threat if I'm giving drugs out to young people by their families," he said.
"If somebody is giving my child drugs the person giving my child drugs, believe me, would be under some kind of threat.
"The kids that are involved in this type of behaviour, their lives are under threat, by their own actions.
"If we can engage with those kids and persuade them they shouldn't be involved in this type of activity, that there's alternatives, then everybody benefits.
"There are people out there we have no control over, who will also take the law into their own hands. What we try to do is prevent that from happening, we're stepping in before they're hurt."