Journalists' union welcomes PUP support over threats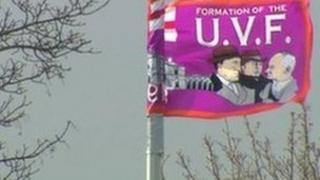 The National Union of Journalists has welcomed a statement from the Progressive Unionist Party condemning threats to their members.
The PUP said any paramilitary threats against journalists were "completely unacceptable".
Earlier this week, the NUJ demanded that Ulster Volunteer Force threats against journalists in Northern Ireland and the Irish Republic be withdrawn.
One journalist received a sympathy card with a UVF logo.
Another was sent a cut-out of a picture by-line with a target drawn on the forehead. The UVF is one of Northern Ireland's loyalist paramilitary groups.
In a statement, PUP deputy leader Dr John Kyle said: "The Progressive Unionist Party recognises the importance of a free press in a democratic society and considers threats of violence against journalists to be completely unacceptable."
The NUJ in Northern Ireland has now called on the political representatives for the Ulster Defence Association to make a similar statement. It wants them to endorse a free and democratic press unencumbered by threats of violence.
A spokesperson for the NUJ Belfast & District Branch said: "The PUP has made a welcome gesture condemning threats to journalists.
"The NUJ members now await the political spokespersons for the UDA to issue a statement calling on those associated with these unwarranted threats to lift them."