PSNI 'may have to foot £50m G8 bill', says Gerry Kelly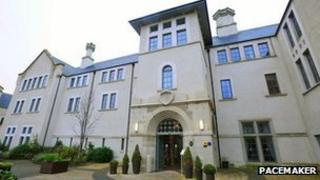 The Police Service of Northern Ireland may have to fork out at least £50m to cover the costs of policing and security at the G8 summit in Fermanagh, it has been claimed.
Gerry Kelly, a Sinn Fein member of the Policing Board, said there was no "written" guarantee of who would pay.
World leaders will gather at the Lough Erne golf resort for the summit on 17 and 18 June.
Mr Kelly said the cost would have a substantial effect on the PSNI budget.
He said that members of the Policing Board's resource committee were told on Thursday that the bill was currently £50m and possibly rising.
He added: "We were told there is no comfort note, there is no letter of offer, there is nothing in writing.
"In fact, there is no guarantee at all that the British government will be paying for it and, in fact, the PSNI will have to, at very substantial risk, pay for it in the meantime."
He said talks were ongoing between the Northern Ireland Office, British Treasury and the Home Office.
Mr Kelly added: "Our experience... is that what will happen especially if you are dealing with the British Treasury... that you will fight about it for another, not necessarily weeks or months, but into years.
"The PSNI cannot afford that type of damage to its budget as we move into the next year.
"These are worrying issues. I think it's easily dealt with. The chief constable should be given a note or a written guarantee that this will be paid, and be paid within a reasonable period of time so that the budget will not affect the policing issues."
Earlier this month, PSNI Chief Constable Matt Baggott said an extra 3,600 police officers were being flown into Northern Ireland next month from Great Britain for the summit.
Secretary of State Theresa Villiers said it would be one of the biggest policing operations ever in Northern Ireland, with mutual aid from Great Britain and 600 private security staff from G4S and others.
It will be the first time the annual summit has been held in the United Kingdom since it was at Gleneagles in Scotland in 2005.