Training camp suspect bailed for son's first communion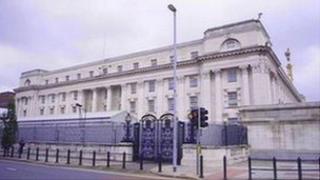 An architect charged in connection with an alleged terrorist training camp can leave prison to be at his son's first communion, a High Court judge has said.
Aidan Coney, 34, of Malabhui Road, Carrickmore, County Tyrone, was granted temporary High Court bail provided his local GAA club chairman chaperones him.
He is one of four suspects allegedly linked to the firing of 200 rounds at Formil Wood, Omagh, in March last year.
The judge ordered sureties of £10,000 and banned him from using a phone.
Mr Coney faces charges of possession of a firearm and ammunition with intent to endanger life or property, and attending a place used for terrorist training.
Surveillance
At previous court hearings it was claimed balloons were pinned to trees as targets, with only 15 shell cases recovered due to a deliberate attempt to cleanse the area of evidence.
Part of the prosecution case centres on a five-month surveillance operation against two co-accused.
Coney was seeking compassionate bail to attend the ceremony in Carrickmore on Saturday.
The court heard he abided by all conditions during a previous release for a christening service where Sinn Fein Assemblyman Barry McElduff accompanied him.
With the MLA unavailable this time, the GAA club chairman was prepared to fill the role.
'Abuse bail'
A prosecution barrister opposed the application, citing the seriousness of the charges. but defence counsel rejected any suggestion that Coney would use his son's first communion to commit any offences.
Stressing the importance of the event in the Carrickmore community, he said: "If Mr Coney were in any way to abuse the bail we seek that would have repercussions for him and his family for generations.
"He would never live it down, to put it mildly."
Mr Justice Horner acknowledged the prosecution objections, adding: "Those concerns are heightened because of the continuing dissident republican campaign."
But the judge ruled that conditions could be imposed to manage the risk, based on Coney's compliance during the previous compassionate release.
He ordered him to leave straight after the service and be back in Maghaberry prison by 2.15pm.
The judge warned that any breach of the conditions may have "disastrous consequences" for others seeking similar release.