Northern Ireland Assembly passes SDLP health motion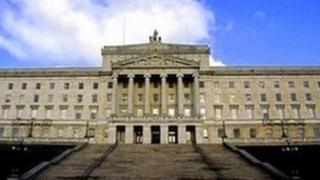 The assembly has voted in favour of restricting the involvement of the private sector in the provision of health and social care.
The SDLP proposed the motion and were supported by Sinn Fein and the Alliance Party. The motion was carried by 47 votes to 43.
Amendments tabled by the DUP and Ulster Unionists were defeated.
The SDLP's health spokesperson, Conal McDevitt, said it was a very important vote.
"As a result of tonight's vote, the (health) minister must now bring forward legislation to indicate where and how the private sector should be involved in the delivery of health and social care services here," Mr McDevitt said.
"We believe a health and social care system in public ownership and funded from the public purse properly focused on public health and meeting the needs of the most vulnerable in our society is the best model to meet all our needs."
The SDLP said it had tabled the motion to ensure that health reforms envisaged under the Transforming Your Care policy (TYC) did not result in "privatisation by stealth".
Jim Wells of the DUP accused SDLP assembly members of "jumping on the bandwagon trying to embarrass the minister".
Speaking for his party's amendment, Mr Wells said there had been "a media-led scrum, a feeding frenzy" over the proposed closure of nursing homes.
He said it was never going to happen that frail, elderly people would be turned out into the street.
Mr Wells said 95% of nursing care was already provided by the private sector and that if this was brought back into the NHS, "it would bankrupt social services in Northern Ireland overnight".