Londonderry's Charlie Nash gets European belt at last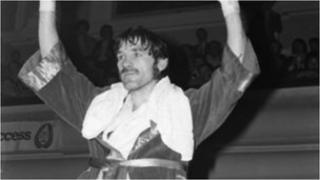 Londonderry's Charlie Nash beat Andre Holyk for the vacant European lightweight title at the city's Templemore Sports Complex on 27 June, 1979.
He later defended the title before losing a world title challenge against Jim Watt in 1980.
But 34 years on, Charlie had still not received the actual belt for winning that European title.
So, at Derry City Council Offices on Tuesday, family, friends and the boxing fraternity gathered as Dungiven's own champion, Paul McCloskey, presented Charlie with his long-deserved reward.
Boxing manager Francie McNicholl said he had been recently approached by John Campbell from the boxing board of control in Belfast about Charlie waiting for his belt for "a long, long time".
"I got involved at that stage and we were told they were unwilling to give the belt but they would actually sell it," he said.
"So that's why the call was made to me: basically so I would agree to pay the money for it and we did get the belt.
"I'm actually privileged to be able to do this for Charlie because he is an absolute gentleman."
Charlie said he was initially taken by surprise when he arrived at the council offices.
"I thought it was maybe something else I was going for but then I was delighted to come in because when I saw everybody I had a fair idea what was going to happen then," he said.
"I'm delighted I've got the belt after 34 years. I tried maybe 30 years ago, and I tried 25 years ago, 15, 10 every four or five years I would remember I never got my belt when I won the European title - I defended it and got nothing for it.
'No belt, no belt, no belt'
Charlie said he had contacted the British Boxing Board about his missing belt but was told the board did not actually issue belts at that time.
"But I'd actually seen photographs of the likes of Ken Buchanan and Jim Watt who had been European champions before me at the same weight and I'd always remember seeing them with belts around their waists," he said.
"So I was really, really disappointed whenever I kept getting put off, no belt, no belt, no belt.
"I'm delighted and I'd like to thank Francie very, very much for spending the money to produce a European title belt for me."
Dungiven's McCloskey said when he won his own European title he was just emulating what Charlie Nash had done.
"And to say in the history books that you're the second man to win the European title behind Charlie Nash says a lot. It's an honour to be here in general," he said.
"Without sounding too harsh I think it's a disgrace that it's taken this long to get this man his belt, that's 34 years. I'm just happy he has it and happy to be part of it.
For Charlie, 34 years is better late than never.
"My other European title belt when I won the European title for the second time in Dublin that's in the Tower Museum now for quite a few years," he said.
"People used to come into my house and wonder where's your European title belt, at least I'll have one now.