'Bloody Sunday' cocktail: Adventure Bar apologises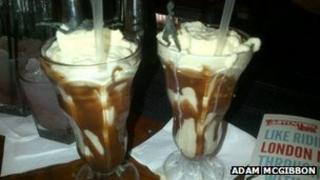 A cocktail named after Bloody Sunday - one of the worst events of the Troubles in Northern Ireland - has been on sale at a bar in London.
The Sundae Bloody Sundae cocktail, topped with a toy soldier, was served at the Adventure Bar in Covent Garden.
Thirteen people were shot dead when soldiers opened fire on civil rights marchers in Londonderry in 1972. Another man died five months later.
Kate Nash, whose brother was killed, described it as "absolutely cruel".
Her 19-year-old brother, William Nash, died after he was shot in the chest during the march.
Direct reference
Ms Nash told the BBC's Talkback programme: "Insensitive just doesn't describe it, it's absolutely cruel."
She said the fact that a toy soldier had been added to the cocktail meant there was a direct reference to the Derry shootings.
"The person who thought this drink up knew what they were doing," she added.
The bar owners have apologised through the Belfast Telegraph newspaper and said they did not mean to cause offence.
The issue was highlighted on social media by Belfast man Adam McGibbon, who lives in London.
He visited the bar on Monday with a number of his English friends, one of whom ordered the cocktail.
'Grossly offensive'
Mr McGibbon said at first, his friend did not realise the significance of the name but the Belfast man added that he could not believe his eyes when the drink arrived at their table.
"On top of it was a little toy soldier holding a rifle and I just thought that was grossly offensive," he told Talkback.
Mr McGibbon said there was a large Irish community in London and many would be angered by the cocktail.
"I think if it was just called Sundae Bloody Sundae it would've been almost permissible - in bad taste but OK - but the fact that there was a toy soldier on top of it connected it directly to Bloody Sunday in 1972 and made it offensive."
He added: "Certainly when I explained it to my English friends, they were offended too."
'Comedy sketch'
A spokesperson for Adventure Bar told the Belfast Telegraph: "Perception in London is very different, and to those people who are upset we are highly apologetic."
"We are not in the business of trying to upset people," he added.
The spokesman said the cocktail was originally a reference to an Alan Partridge TV sketch by the comedian Steve Coogan.
However, he added that "clearly this has been misconstrued, as we are understanding more as people make comments online".
Three years ago, a public inquiry into the events of Bloody Sunday unequivocally blamed the Army for one of the most controversial days in Northern Ireland's history.
'Shocking'
The Saville Inquiry found that none of the victims were posing a threat and none had done anything to justify their shooting.
Prime Minister David Cameron described the findings as "shocking" and he apologised on behalf of the government.
The company behind Adventure Bar in Covent Garden runs a chain of four pubs in the city and on its website, the firm said its mission was to "eradicate mediocrity from London's bar scene".
Other drinks on the cocktail menu include; Porn Star, Grounds For Divorce and Frozen Black Irish.
The company has not returned calls from the BBC.