Giant's Causeway resort row: National Trust spared full legal bill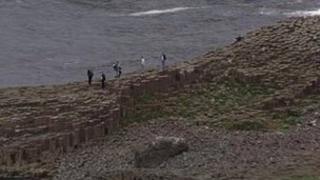 The National Trust has been spared from having to foot the full legal bill for its failed bid to block a £100 million golf resort near the Giant's Causeway.
A judge at Belfast High Court refused the Department of the Environment's (DOE) bid to be awarded costs.
It means both sides will pay their own legal expenses in a case where sources predicted the fees will run into six figures.
The court heard the charity is not planning to appeal the original ruling.
The National Trust had attempted to stop the development of the resort because of its proximity to the Giant's Causeway, which the United Nations cultural body, Unesco, has designated as a World Heritage Site.
In February, Belfast High Court rejected all grounds of the trust's challenge to Environment Minister Alex Attwood's decision to grant planning permission for the scheme.
The verdict cleared the way for a championship links golf course, five-star 120-bedroom hotel and 75 villas at Runkerry near Bushmills, County Antrim.
'Charity status'
Developers have said the proposed resort will create around 360 jobs and a further 300 through suppliers and construction.
Lawyers for the trust had argued that Mr Attwood acted unreasonably and irrationally in giving the green light for the resort last year, and claimed proper consultation was not carried out.
But the judge backed a counter submission by the Department of the Environment that world heritage convention guidelines have no standing in UK law.
The row has continued since the ruling, with a report for Unesco, calling for a halt to the resort, saying the Runkerry development would have an adverse impact on the world heritage site.
'Public interest'
When counsel for the DOE applied for a costs award on Wednesday, the trust's barrister urged the judge not to make such an order due to his client's charity status and the general importance of issues raised in the case.
He said: "The judgement has certainly been seminal in terms of people's understanding not only of Unesco but of the wider process of public consultation."
Refusing the DOE costs application, the judge said: "I remain of the view that the proper order, for reasons that I have given in relation to the public interest, is that there should be no order as to costs."