Mother jailed for throwing stones at police during flag protest riot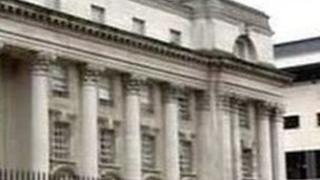 A woman who threw three stones at police during a flag protest riot has been jailed for eight months.
Jean Leathem, from Trillick Street in east Belfast, had pleaded guilty to a single charge of rioting on 4 January.
The court heard police came under attack from a crowd of around 30 people at Templemore Road and Castlereagh Street.
Eight officers were injured during the incident.
During the riot, bricks, bottles, fireworks and petrol bombs were thrown at police.
Jailing the 51-year-old at Belfast Crown Court, judge David McFarland said despite the fact she was the main carer for her disabled adult children, the courts had issued repeated warnings that those who attacked police will go to jail.
"There seems to be a culture in Belfast that it is perfectly acceptable for people to congregate and then start throwing objects at the police," the judge said.
"It is important that you and others realise that if caught, you will go to prison."
A prosecution lawyer described how the organised flag protest erupted into violence and that the mother of three had been seen by three different officers throwing a total of three pieces of masonry at police.
He added that her underarm throws had not reached police lines or struck their vehicles.
Leathem was arrested at the scene and during police interviews admitted throwing one stone but claimed that had been aimed at her friend's son who had daubed graffiti on a wall.
A defence lawyer said Leathem was "thoroughly ashamed" of her behaviour which he said was "out of character".
In imposing a jail term, judge McFarland said her claims were "nonsense" and that courts needed to impose "deterrent sentences" for offences of riot.