G8 summit could cost NI health service £1.2m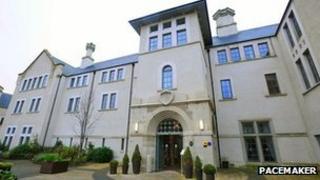 Hosting the G8 summit in County Fermanagh could cost the health service in Northern Ireland about £1.2m.
Staffing is to be increased to ensure there are more doctors and nurses available to work in A&E departments.
World leaders will gather at the Lough Erne golf resort for the summit on 17 and 18 June.
The western trust has been told to arrange additional out-of-hours facilities and extra beds are to be made available in the main hospitals.
Department of Health officials gave Stormont's health committee details of the potential costs.
They said that some of the costs could still be incurred by the Foreign and Commonwealth Office.
Speaking to the BBC afterwards, Health Minister Edwin Poots said: "We will be expecting London to pay for it.
"I will be ensuring that my colleagues will be pursuing that funding - that if we spend money it will be returned to us."
'Security'
Additional health facilities will also be available for delegates on the Lough Erne site but that bill is being paid by the Commonwealth office.
Last week, it emerged that the Police Service of Northern Ireland (PSNI) may have to pay at least £50m to cover the costs of policing and security at the summit.
Gerry Kelly, a Sinn Fein member of the Policing Board, said there was no "written" guarantee of who would pay.
Mr Kelly said the cost would have a substantial effect on the PSNI budget.
He said talks were ongoing between the Northern Ireland Office, British Treasury and the Home Office.
Earlier this month, PSNI Chief Constable Matt Baggott said an extra 3,600 police officers were being flown into Northern Ireland from Great Britain for the summit.
It will be the first time the annual summit has been held in the United Kingdom since it was at Gleneagles in Scotland in 2005.