Ballycastle scam victim solicitor guilty of abusing trust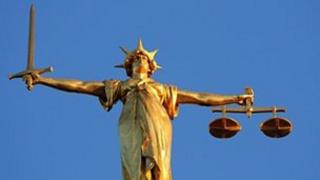 A former solicitor, conned out of £98,000 by a Dutch man, has pleaded guilty at Antrim Crown Court to charges of abusing his position of trust.
Berkeley White, 44, from Quay Road in Ballycastle, County Antrim, admitted using clients' cash in the scam in December 2011.
He exchanged the cash for a bag he believed contained 180,000 euros. The bag contained only fake banknotes.
White will be sentenced in September after pre-sentence reports.
Although no details were given in court on Thursday, an earlier committal hearing heard that White, who was short of cash, thought he had found himself a saviour in the form of a Dutch man who offered to buy a guesthouse from him.
The Ballycastle seaside residence would then be leased back to White and the pair would split any profits.
Avoid bank charges
However, the Dutch man put a further proposal to White, who has since been struck off as a solicitor.
He suggested that in an effort to avoid bank charges over the proposed buy-out, he would give him 180,000 euros in exchange for £100,000 from White.
According to the charges, White abused his position of trust as a solicitor by removing the £98,000 from the firm's HSBC account, which held money belonging to his clients.
Within the next five days, White had taken the cash, which now amounted to criminal property as it exposed his clients to possibly losing the funds, to Holland.
The Magistrate's court heard that White flew to Schiphol airport where there was an "exchange of bags" between him and the Dutch man.
However, it was only after returning to his hotel that White realised he had been conned and that he was left holding, not a bag of euros, but a suitcase of fake notes.
White immediately informed the Dutch authorities about the scam and then returned to Northern Ireland where he managed, with the help of family and friends, to scrape up enough cash to replace what he had removed from his clients' account.
He also wrote a letter to his solicitors' governing body, the Law Society, outlining what he had done, and of his intention of resigning.