Craig-Lee Williamson jailed for rioting after Somme commemoration parade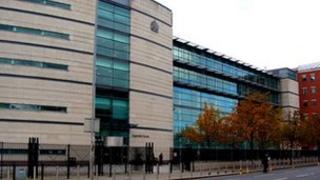 A man who threw large pieces of masonry at police during a riot that erupted after a Somme commemoration parade has been given a three year jail sentence.
Craig-Lee Williamson from Victor Place, Belfast, had pleaded guilty to rioting following the parade, which took place in the east of the city last July.
Belfast Crown Court heard that he fled from police and, in a bid to avoid arrest, he ditched the pink T-shirt he had been wearing during the riot.
Half his jail term will be on licence.
Sectarian interfaces
The judge told Williamson he did not know "what the people who died in the Somme would have thought" of his actions.
He added "their heroics are sullied by you and others by throwing stones at the police".
A prosecution lawyer told the court that after the Somme commemoration parade in east Belfast had passed off peacefully on 2 July, crowds totalling around 250 people gathered at a sectarian interfaces at Mountpottinger Road and Castlereagh Street.
Although community representatives managed to keep order for a time, people began throwing missiles at uniformed police, who were then replaced by Tactical Support Group officers wearing full riot gear.
The replacement officers were then also "pelted with missiles" including bricks, bottles and fireworks.
Cheering crowd
The prosecution lawyer said while there were "evidence gathering" teams in place with video cameras, a police inspector saw Williamson breaking up large pieces of masonry.
The inspector witnessed Williamson throwing the masonry at police, with the crowd "cheering" every time he did so.
The court heard that as police moved forward Williamson ran off, ditching his "distinctive" pink T-shirt under a car.
Initially, he managed to evade arrest but was seen around half an hour later, still bare-chested. After another short chase, he was caught and arrested.
During police questioning the accused denied involvement but later pleaded guilty to a single charge of riot.
'Remorse'
The lawyer revealed that at the time, Williamson was subject to a suspended sentence for a riot in 2010.
A defence lawyer told the court that his client "does have regret and remorse" for getting involved in the riot and added that had he been sober, he would not have thrown anything.
Jailing Williamson, the judge repeated warnings that have been issued from judiciary that "the courts are doing what we think is appropriate and that is that anyone who is caught faces a prison sentence - hopefully that message will get through".