Smithwick Tribunal: Officer denies IRA information leak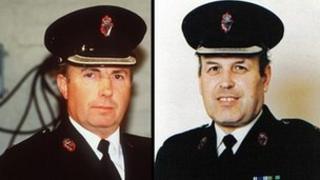 A former Garda (Irish police) sergeant has denied passing information to the IRA during the Troubles.
Owen Corrigan was giving evidence during the closing days of the Smithwick tribunal.
Mr Corrigan said there was no leak from Dundalk garda station that led to the murders of two senior RUC officers.
Chief Supt Harry Breen and Supt Bob Buchanan died in an ambush in south Armagh shortly after they left a meeting at the station in 1989.
Mr Corrigan told the enquiry that during the Troubles senior RUC officers were travelling to Dundalk garda station "willy nilly" without police protection.
"It's a terrible thing to say", he said, but those men, "were authors of their own misfortune."
Intelligence
He denied there was a leak from Dundalk garda station that led to the double murders.
Mr Corrigna told the tribunal that the IRA version of what happened corroborates evidence that he had previously given, that the two senior RUC officers were under surveillance as part of a lengthy operation.
Former garda sergeant Corrigan previously gave evidence in which he said he believed Chief Supt Harry Breen and Supt Bob Buchannan were murdered as a result of a leak.
He was asked to explain that comment and how it squared with today's assertion that there was no leak from a garda member in the Dundalk station.
He said he defined a leak as one person passing information or intelligence to another.
So, in his book one IRA member telling another the result of the surveillance was a leak.
That was why he said he could say there was a leak involved in the murders but that it didn't come from a member of the Garda Siochana (Irish police service).
The former special branch detective has denied that he was a rogue policeman who passed information to the IRA for whatever reason, including money.
Deathbed
The tribunal's lawyers were keen to question him about his properties and asked for access to his bank details.
But he said he was going to refuse them as nobody else had been asked to account for their personal finances.
He said he had a lot of time to think about this as he lay on his deathbed and he was resolved not to do so.
He recently underwent a major heart operation
During the session and the former detective repeatedly told lawyers that he was not a well man; and the enquiry should be re-named the "Corrigan tribunal" because Thursday was his 18th day giving evidence which he said he found most insulting.
He likened the enquiry to a political trial that was out to get him. Mr Corrigan said that the British security services were "behind it all".
Mr Corrigan is due back in the witness box on on Friday when the tribunal is expected to conclude its public sittings.
The tribunal was established in 2005 and is being chaired by Judge Peter Smithwick.
It was due to conclude in November 2011, but has been granted a number of extensions by the Irish government.