Norman Moffatt trial: James McCook found not guilty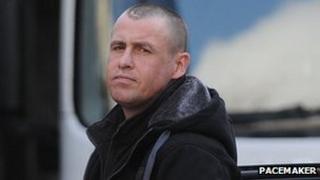 James McCook has been found not guilty of the murder of pensioner Norman Moffatt.
Mr Moffatt, 73, was stabbed as he walked home along Railway Road in Coleraine, County Londonderry, after buying a newspaper, in January 2001.
He died in hospital two months later.
The jury at Antrim Crown Court was directed by the trial judge to find Mr McCook, originally from north Antrim, but with an address in Stockport, Greater Manchester, not guilty.
The key evidence of the prosecution centred around a witness called Martha Brown.
She said that after a night out in 2006, Mr McCook told her he had killed Mr Moffatt.
However, it was not until three months later that she reported that to the police.
She was then questioned in 2012 about a number of inconsistencies in her story about who was present when Mr McCook allegedly confessed.
In his ruling, the judge said it was bewildering to the court how anyone could stand over those inconsistencies.
He directed the jury to find the defendant not guilty.