Third of UK illegal fuel sales in Northern Ireland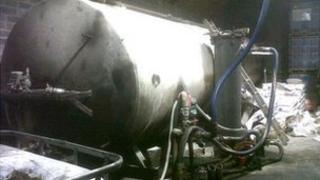 Nearly a third of all illegal fuel sales detected in the UK in 2012/13 were in Northern Ireland.
The figures, released by Her Majesty's Revenue and Customs (HMRC), show that of 388 detections in the last year, 128 were in Northern Ireland.
Of the 49 manufacturing sites discovered, 22 were in Northern Ireland.
However, the figures to do not include illegal fuel premises found just across the border in the Republic of Ireland.
In the Republic, according to figures reported by a Dail (Irish parliament) committee that investigated the issue, the authorities lose about 150m euro each year.
Fuel intended for farmers and some industries is sold at a tax-discounted rate and coloured with a dye to identify it.
Launderers remove the dye and sell the fuel on as fully-taxed road diesel.
HMRC says the fuel being sold is often substandard and can seriously damage car engines.
The chemicals used by the gangs and the toxic waste they produce damage the environment.
Customs said there has been a big increase in the detection of illegal fuel sales from so called "pop up garages" across the UK.