Poots urged to prove money will be there for elderly care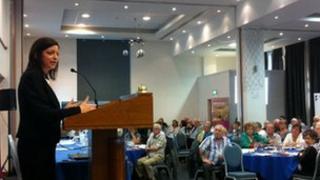 Pensioners from across Northern Ireland have called on the health minister Edwin Poots to assure them that there is enough money available for changes to older people's care.
They voted to take the action at an annual Pensioners' Parliament event.
The call relates to the Transforming Your Care healthcare review plans.
Nearly 200 pensioner delegates voted overwhelmingly for the motion, which expressed "concern" about a projected £500m funding shortfall by 2015.
On Thursday Pamela McCreedy of the Transforming Your Care review said at the event that she planned for two-three years at a time.
She said: "My job is to get that money, to be able to effect that change."
She told pensioners there was a need to "join up care" as people are living longer but want to stay in their homes for as long as possible, rather than go in to care homes or nursing homes.
Robert Hasson from the Age Sector Platform group said: "There is a scarcity of funding which Transforming Your Care makes no pretence to eliminate."
Discriminated
Patricia Donald is a former chief nurse at the Western Board.
She said: "They don't know how they're going to transfer care from hospitals to homes. Either they're living in cloud cuckoo land or they're deluded but they're not living in the real world.
"Everybody wants Transforming Your Care but the nuts and bolts have yet to be worked out. You want to stay in your own home but what kind of service are you going to get?"
Mrs Donald said young people were leaving Northern Ireland and she worried there would not be enough care workers in future.
The elderly delegates also called for an Equality Impact Assessment "as a matter of urgency", to probe whether the Transforming Your Care review discriminated against older people.
They said they were seriously concerned about the lack of consultation around care home closures.
Last month, three health trusts announced consultations that could see the potential closure of all their residential care homes, and elderly people felt they had not been properly consulted.
Mr Poots and the chief executive of the Health and Social Care Board, John Compton, apologised for their mishandling of the issue which they said had only caused people unnecessary misery.