Belfast: Whiterock Orange Hall damaged in arson attack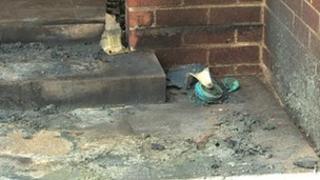 Whiterock Orange Hall in west Belfast has been damaged in an arson attack.
A bin was pushed up against the back door of the hall on the Springfield Road early on Saturday morning, 1 June.
It was set alight and the door was burned. There was also smoke damage to the interior of the building.
Belfast County Grand Master George Chittick said the arsonists were "attempting to whip up tensions ahead of the main parading season".
"They must not be allowed to succeed," he said.
"Brethren in west Belfast, and particularly the members of Whiterock Temperance LOL 974, have made great strides to ensure this hall is a community facility for all.
"This attack was clearly carried out by people who have no respect or tolerance for a differing viewpoint."
North Belfast DUP MLA William Humphrey said the attack had caused thousands of pounds of damage to the hall.
"This was undoubtedly a sectarian attack. I am disgusted and outraged that a local Orange hall has been targeted and damaged in this way," he said.
"This hall is used extensively by the local community in the Highfield, Springmartin and West Circular Road area and this will be viewed as a deliberate attack on the local Protestant community.
"I would appeal for calm and for there to be no further incidents."
Police have appealed to anyone with information about the attack to contact them.