Professor Chris Elliott to lead UK horsemeat scandal review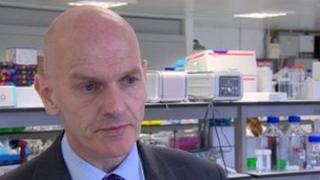 A Northern Ireland-based food security expert is to lead an independent review of the UK's food system, following the horsemeat scandal,
Professor Chris Elliott, from Queen's Institute for Global Food Security, has been appointed to undertake a "wide-ranging" review of the supply chain.
The review was announced in April, following revelations that some beef products sold and supplied in the UK contained horse DNA.
It will take up to a year to complete.
His appointment was announced in a joint statement by the Department for Environment, Food and Rural Affairs and the Department of Health at Westminster.
'Systemic failure'
The statement said the review would "focus on consumer confidence in the authenticity of all food products and any weaknesses in food supply networks which could have implications for food safety and public health".
It will also examine the "causes of the systemic failure that enabled the horsemeat fraud" and the "roles and responsibilities of businesses throughout the food supply chain".
Environment Secretary Owen Paterson said: "Consumers have the right to know that the food they're eating contains what it says on the label."
He added that Professor Elliott would bring "years of experience to the vital task of ensuring people can be confident in the food they're buying".
The professor said he was "delighted" by his appointment and added: "Our shared challenge is to prove to the public that they can trust the systems that put food on their plate."
'Integrity'
The review team's interim findings will be submitted to the government in December and a final report is due to be submitted by next spring.
Professor Elliott is the director of the Institute for Global Food Security, based at Queen's University, Belfast.
The £33m facility was launched officially in March and has been described by the university as an international "food-fortress" that plays a key role in improving the integrity of the food chain.