Newry Tesco store unsettles local independent businesses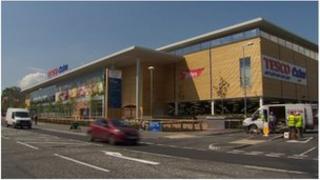 Northern Ireland's third largest Tesco, which is opening in Newry on Thursday, is unsettling some of its retail neighbours.
Tesco have said the 63,000 square feet store, just outside the city centre, will boost the city's economy.
It will employ 330 full and part-time staff and contribute £600,000 in rates.
"It will attract people back into Newry," said its manager Stephen Magill, who has one eye on shoppers over the border.
"It will increase footfall for everyone's benefit."
But Jack Murphy, a retailer who sits on the city centre management committee, believed the development - six years in the making - was a missed opportunity.
"There is probably annoyance over the whole situation," he said.
"If it had been in the centre, where we would have loved it, people shopping there would have been able to mingle around the town."
Another retailer, Graeme Finegan, was dubious that Tesco's arrival would benefit all.
"I do not think the Tesco customer is going to make that extra effort to come in to Newry to have a coffee and see some of the independent retailers."
But he said it was up retailers to face up to the the challenge and Stephen Magill at Tesco agreed.
"We have had meetings and we want to integrate into Newry, " said Mr Magill.
"If everybody works together we can build a better economic environment for all. That is small businesses and big businesses."
The Newry store will be the only large opening in Northern Ireland by Tesco this year.
Off the back of reduced annual profits and falling sales, the retail giant is pulling back on big store openings across the UK.