Annalong drownings: Mourne Rescue team turned away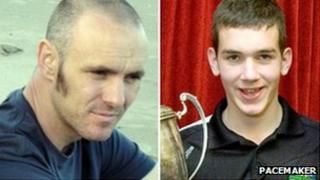 The assembly's justice committee is to write to the chief constable to ask why an underwater search team was turned away from the scene of two drownings in County Down.
Kevin O'Hare, 15, and Colin Polland, 39, died at a disused quarry in Annalong on Saturday evening.
The DUP's Jim Wells said members of the Mourne Underwater Search Team were refused access to the quarry.
He said the PSNI underwater search team was called in from Belfast.
Mr Wells said this was despite the fact that most of the Mournes rescue team lived within three or four miles of the scene and could have been on the scene in 25 minutes.
He said there could have been a better result if "the protocols had been bent or torn up".
Funeral for each of the men were held on Wednesday.
Kevin got into difficulty, a friend ran for help and Mr Polland jumped into the water to try to rescue the teenager.
The two separate funerals were held in County Down within an hour of each other.
Kevin was from Dromara, County Down, and Mr Polland was originally from Newcastle, County Down, but lived in England. It is understood he was home on holiday.