Girdwood development: Sixty new homes to be built on site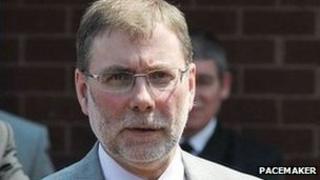 Sixty new homes are to be built on the site of a former army base in north Belfast, the High Court has been told.
Lawyers for Social Development Minister Nelson McCausland confirmed the plan to help tackle social housing need as a legal challenge to the Girdwood regeneration scheme was withdrawn.
Ellen Doyle, had sought to have the new plan quashed for allegedly breaching equality guidelines.
After receiving clarification, she agreed to withdraw her legal action.
The nationalist single mother, who has been on the housing waiting list for nearly 13 years, had sought to have the new plan quashed and declared unlawful for allegedly breaching equality guidelines.
But as a two-day hearing was about to get underway her barrister confirmed that judicial review proceedings had been resolved.
Mixture
As part of the settlement a statement was read out by senior counsel on behalf of the department and minister clarifying and updating the position on implementation of a Masterplan Conceptual Framework (MCF) for the Girdwood Park site agreed by elected representatives in the area in May last year.
Tony McGleenan QC said planning applications were submitted in January for the entire area and a proposed community hub.
Discussions with the Northern Ireland Housing Executive, Apex Housing Association and professional advisers have produced a layout of housing on the site, the court heard.
Mr McGleenan said: "Currently, this layout is for 60 units of residential social housing on the Girdwood site."
The proposed development will be made up of a mixture of houses, apartments and duplexes.
Mr McGleenan added that the Girdwood plans are only one small part of a wider initiative involving a further 671 homes across north Belfast.
The current priority for Girdwood Park is to secure EU funding for the community hub and deliver the build project in time to be eligible for funding, according to the statement.
On the basis of those clarifications, Ms Doyle agreed to withdraw her judicial review challenge.
Mr Justice Treacy praised all sides in the case for how it was handled.
Decline
"It was obvious from the papers and arguments that this was a case of some complexity that would have taken some time," he said.
"It's always better when these matters can be resolved without any further intervention from the court."
The outcome is believed to have come about through lengthy out of court negotiations on what was a highly sensitive issue.
Earlier in proceedings counsel for Ms Doyle had claimed Mr McCausland was motivated by sectarianism in seeking to restrict expansion of north Belfast's Catholic population in the Girdwood plans.
It was alleged that he tried to block housing development for improper political reasons and to counter the decline of Protestants in the area.
A scheme announced under former SDLP Social Development Minister Alex Attwood in 2010 was to have involved building 200 homes on the site.
But after Mr McCausland took office revised proposals were announced that would see sport and educational facilities in the area.
Legal proceedings were issued over the perceived uncertainty about what the new plans involved.
Following the update, however, Ms Doyle's lawyers expressed satisfaction.
Paul Pierce said: "The minister's statement is a very positive and significant step towards address the chronic social housing needs in north Belfast."