Prison staff join police, firefighters in games leave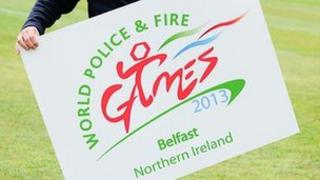 Prison service staff are to join police and firefighters in being offered up to an additional three days extra paid leave to participate in the World Police and Fire Games.
The numbers of expected participants from overseas has, so far, fallen below target.
Some 5,800 competitors have registered so far; the target is 10,000.
The games, being held in August, are billed as one of the biggest tourist events ever held in Northern Ireland.
The cost of staging the competition has been estimated at £13.8m.
About half of that amount (£6.88m) is coming from Stormont's Department of Culture Arts and Leisure (DCAL).
The DCAL Stormont committee expressed concern that prison staff from Northern Ireland were being asked to take annual leave to participate.
After lobbying other executive departments, prison staff will now join the police and firefighters is being allowed up to three days paid leave if they participate in the games.
In response to a request from the chair of the committee Michelle McIlveen, Justice Minister David Ford said: "Staff from the Northern Ireland Prison Service wishing to participate in the World Police and Fire Games 2013 will, as far as operational requirements allow, be granted leave including up to 3 days special leave with pay.
"I understand the PSNI is making similar arrangements."
UKIP assembly member David McNarry said the public sector could not afford to be so generous in straitened economic times.
"The public will be appalled. This isn't rent-a-crowd, it's rent-a-team, but it's got worse - it's cash for players," he said.
"The Stormont executive has embarked on austerity measures resulting in job cuts and all of a sudden we can find three days paid leave for a number of people.
"The concern that the public will have about this is that this is still public money, it is still their money being spent."
The PSNI said it was normal policy to offer all its officers up to three days of "duty credit" for taking part in international, AA (Athletic Association) affiliated sporting events.
So far, about 600 local personnel have registered to take part.
It was anticipated the competition would generate about £20m for the local economy, with thousands of athletes' family members accompanying them to Northern Ireland.