Northern Ireland pension discrepancy raised by Margaret Ritchie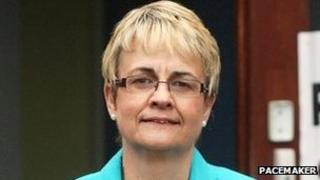 An SDLP MP has won cross-party support at Westminster for a call to fix a discrepancy affecting state pensions of some people in Northern Ireland.
It concerns many of those who started work between 1947 and 1957.
South Down MP Margaret Ritchie said those affected had left school aged 14 and started paying National Insurance contributions.
However, on reaching pension age they discovered that pension contributions are calculated from age 16.
The minimum age for leaving school in Northern Ireland during the period affected was 14.
Ms Richie said she was on the panel of an event for the Pensioners Parliament in Belfast last week when the issue was raised by a woman in the audience.
The MP has now tabled parliamentary questions to establish how many people in Northern Ireland are affected and how much they could have lost out on.
"From a government point of view it cannot equate to a great deal of money," she said.
"The only way that you can seek to influence people is through putting motions down in parliament, through exerting cross-party influence in parliament to ensure this matter is rectified.
"I would also urge anybody in this particular situation to contact the Age Sector Platform in Belfast so that government and us as MPs are fully aware of the numbers involved."