Def Leppard's Belfast-born guitarist is treated for cancer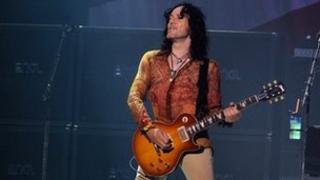 The Def Leppard guitarist Vivian Campbell is being treated for cancer.
The Belfast-born musician, who is 50, told his Facebook followers that he has Hodgkin's Lymphoma.
Mr Campbell was diagnosed after a biopsy operation in March and is now two months into chemotherapy in America and is hopeful of a full recovery.
The guitarist, who has also been a member of Whitesnake, Thin Lizzy and Riverdogs is planning to tour with Def Leppard this summer.
In his online message to fans Mr Campbell warned them to look out for his "new aerodynamic hairstyle" as he has lost his hair due to the treatment he received.
"I feel fortunate that my cancer sent me an alarm call in the form of the cough that wouldn't quit," Mr Campbell said.
"Otherwise, how would I have known? After several months of trying every inhaler known to man, my doctor finally had me X-rayed.
"Hodgkin's has an over 80% cure rate, so by my reckoning, if you're going to have a cancer, Hodgie's is the one to have," he added.
"My family, friends and bandmates have all been extremely supportive through this and I look forward to a summer full of shows with Def Leppard in June/July."