Mistakes found in two Irish exam papers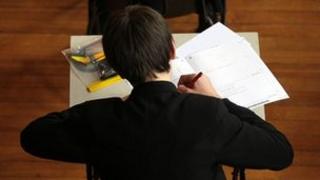 Mistakes have been published in two state exam papers that were taken by thousands of post-primary school pupils in the Republic of Ireland.
One of the errors was made in a trigonometry question in a Leaving Certificate higher level maths exam.
The second was in a Junior Certificate paper on civic, social and political education, that incorrectly described the Irish Referendum Commission's role.
The State Examinations Commission said pupils would not be disadvantaged.
In a statement, the Irish exams body said it regretted that the errors may have caused "confusion for some candidates" when they sat the papers on Monday.
'Not detected'
The SEC added that the impact of the mistakes on pupils' performance would be taken into account by the chief examiner when finalising the marking schemes for both exams.
"The aspiration of any examining body, including the SEC, is to preside over a system that is completely error free. However, it is recognised, in examining circles, that this will always be an aspiration rather than a completely achievable goal," the statement said.
"On occasion, errors are not detected in advance and come to light during or after the sitting of the examination.
"The State Examinations Commission operates within the core principle that candidates cannot be disadvantaged as a result of an issue arising within a question paper that is outside the candidates' control," the statement added.
Both questions were worth 10% of the final mark for each exam.
Junior Certificate exams are usually taken mid-way through the Republic's post-primary school system, when pupils are about 15.
The Leaving Certificate is the final set of post-primary exams for school leavers and is taken when students are typically 17 or 18.