Violence fear 'used to reduce G8 protest numbers'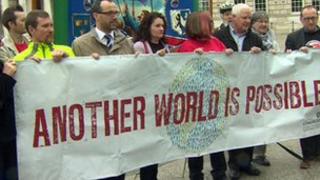 A County Down councillor has expressed concern that "fear of violence" is being used to reduce the number protesting against the G8 summit.
John Barry said the statement from the PSNI that it can process as many as 260 arrests a day during the G8 summit, is regrettable.
The Green Party councillor said it sends out the wrong message.
He said non-violent protest is "an essential part of living in a free and democratic society".
Mr Barry was speaking after trade unions unveiled a banner at Belfast City Hall bearing the slogan Another World Is Possible.
The trade unions will carry the banner at the front of their planned G8 protest march on Saturday.
Leaders of eight of the world's richest countries will attend the summit in County Fermanagh on June 17 and 18.