Bridie Gallagher: Singer's dresses given to Lyric theatre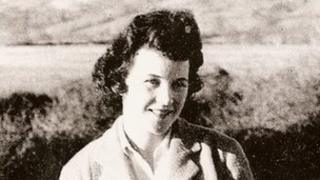 The spirit of the late Bridie Gallagher, who died last year, will make a return to the stage this week.
A collection of dresses worn by the Donegal-born singer, who died at 87, has been donated to the Lyric Theatre.
Bridie Gallagher played around the world including the Royal Albert Hall in London, Carnegie Hall in New York and the Sydney Opera House.
Her son has described the gift as a legacy for the people of Belfast where she lived for more than 50 years.
Jim Livingstone, Bridie Gallagher's son, said the dresses were made for the stage.
"Many people have talked to me over the years about my mother's records and her songs," he said.
"But it was always the women who would say to me: 'And she wore such beautiful dresses'. And she did.
"I could have put them in a museum and they might never have been seen again. This way they are going to be where they ought to be, on the stage."
Born in Creeslough, County Donegal, Bridie Gallagher made her home in Belfast almost 60 years ago and it was there she was discovered by a Decca talent scout in 1956.
Her first single for them - A Mother's Love's a Blessing - was an instant hit and within a few short years she was performing on Sunday Night at the London Palladium.
She on her first American tour in 1959.