Enniskillen hospital staff prepare for G8 summit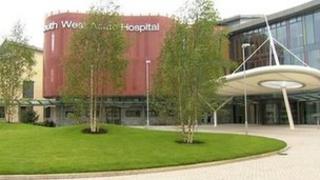 The BBC understands staff numbers at Enniskillen's main hospital are to double if there is trouble at the G8 summit.
World leaders will gather at the Lough Erne golf resort on 17 and 18 June.
Hundreds of extra hospital beds have been made available.
All non-urgent elective surgery which would have taken place on Monday and Tuesday at the South West Acute Hospital has been rescheduled.
Patients will be offered rearranged appointments as soon as possible after the summit.
Up to 5,000 additional people could be in Enniskillen this weekend, including delegates, their staff and protesters.
A source has told the BBC that contingency plans include doubling the staff at the South West Acute Hospital, with former medics on standby.
Planning has been intense with meetings involving representatives from each of the eight countries.
To prepare for the weekend, some members of staff took part in operation ARCUS - this was designed to let some agencies, including the police and emergency services, take part in a mock emergency exercise
One scenario involved a chemical incident in Newry while others had to respond to water supplies being cut off.
All emergency, essential hospital and community-based services will run as normal during the two-day summit.
Plans
Those people who receive care in the community can expect to receive the same care package.
A senior medic told the BBC that while they are "planning for the worst, staff are hoping for the best".
Meanwhile in the past fortnight hundreds of hospital beds have been freed up after all health trusts adopted a strict discharge policy.
The Scottish Ambulance Service has loaned a helicopter with additional ambulances in place across the county.
In a statement, the Health & Social Care Board, which oversees the running of the health service in Northern Ireland, said: "As part of our emergency planning process for major events, health and social care organisations undertake a risk assessment and take the appropriate actions with the primary aim of ensuring that it is business as usual where possible.
"The Health and Social Care Board will continue to work with multi-gency partners as we approach the summit."
Hosting the G8 summit in County Fermanagh could cost the health service in Northern Ireland about £1.2m.
It is unclear who will pick up the bill.
It will be the first time the annual summit has been held in the United Kingdom since it was at Gleneagles in Scotland in 2005.