Loyalist campaigner Willie Frazer in court over Maze protest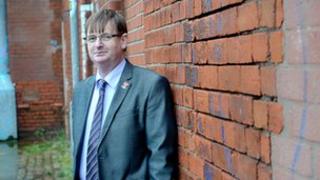 A judge has warned prominent loyalist campaigner Willie Frazer that he cannot continue to flout his bail conditions.
Mr Frazer was arrested on Monday night following a protest against plans to build a peace centre at the site of the former Maze prison.
He is currently on bail after being charged with offences related to union flag protests.
Although the judge, sitting in Belfast, ruled he had breached his bail conditions, Mr Frazer was released.
As part of his bail conditions, Mr Frazer had been ordered not to go within two miles of public protests.
Police told Belfast Magistrates' Court that officers had seen Mr Frazer at the site of the Maze protest.
They said the 53-year-old had tried to prevent officers handcuffing him, accusing one of being "a southerner and provo".
They said when he was arrested in Portadown, County Armagh, placards had been found in his car.
Police said Mr Frazer had been spotted by officers near two previous demonstrations on 13 and 14 June.
Mr Frazer's lawyer told the court his client took no active involvement in Monday night's demonstration and was 10 or 12 miles away when he was detained.
District Judge Connor found that he had breached his bail conditions saying: "I am driven towards the conclusion Mr Frazer is drawn to these protests whether telepathically or otherwise."
Judge Connor granted him bail again, but said "you cannot continue to flout these bail conditions".
Mr Frazer, from County Armagh, is one of the most high-profile figures to be charged in connection with ongoing demonstrations over the decision to limit flying of the union flag at Belfast City Hall.