Coleraine marks royal charter anniversary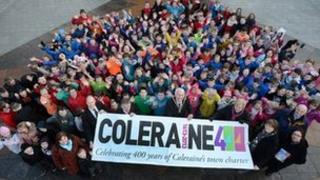 Coleraine is marking a birthday of sorts this month.
Four hundred years ago, the County Londonderry town received a charter from King James I, which gave it the right to hold markets, to trade and to send elected representatives to parliament.
The charter was granted in June 1613, two years after the town was laid out in a gridded pattern which has changed little in the last four centuries.
Coleraine was one of the towns at the centre of the Plantation of Ulster when English and Scottish Protestants settled in Ireland.
The town was once fortified, but archaeologist Nick Brannon said the walls were poorly constructed.
"Coleraine's walls were built before Derry's walls. Derry's have survived because they were big and stone, but the walls here were frankly useless. We think a Dutch military engineer was responsible for designing them," he said.
Exhibition
Few buildings remain from the time but evidence of 17th Century Coleraine can still be found.
Inside St Patrick's Church of Ireland in the town centre it is possible to view medieval foundations and the walls of the church that would have stood here in the early 17th Century.
Other artefacts have also been found in the town and they form part of a temporary exhibition in the town hall.
Among them are large wooden beams which were once part of a 17th Century shop front.
Mr Brannon said the exhibition gave visitors a comprehensive insight into the period.
"It's a combination of written accounts, picture maps, illustrations, photographs of ruins, civic regalia, a whole variety of things that build a big picture of Coleraine and its hinterland."
The River Bann was vital to Coleraine's success as a settlement and Mr Brannon said port books for the period 1613-15 tell us a lot.
"It shows that Coleraine was receiving shipments of tobacco which ties you straight back to the Virginia plantations and things like almonds and raisins and these were being brought from the Far East and Mediterranean, so you can see the impact of world trade here in Coleraine," he said.
A programme of events has also been organised to mark the anniversary including guided walks, talks, and a family fun day.
School children have also been getting involved in Coleraine 400.
More than 500 pupils have taken part in history and art workshops.