DVA jobs: Coleraine DVA centre closure plan 'on hold'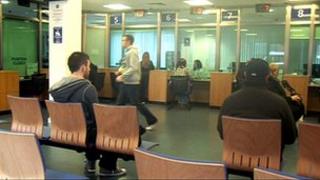 Plans to close Northern Ireland's driver and vehicle licensing centre have been put on hold, pending the outcome of a consultation on jobs.
More than 300 jobs at the DVA centre in County Londonderry have been under threat for some time, due to plans to centralise the service in Wales.
Stormont Environment Minister, Alex Attwood, has lobbied the Westminster government to keep the jobs in NI.
Mr Attwood welcomed the consultation but added it was a "partial outcome".
He said: "Over the last two years, I have made the argument again and again with the Department for Transport and recently with Minister Stephen Hammond that there needed to be a proper consultation around the DVA jobs and a full assessment of impact.
"I welcome that my arguments have prevailed and acknowledge that Stephen Hammond has listened."
In December 2011, the Department for Transport in Westminster proposed the closure of 39 regional Driver and Vehicle Licensing Agency (DVLA) offices across the UK, in order to centralise the service at its headquarters in Swansea.
It said that the agency needed to modernise and offer more of its services online, and argued the closures would deliver significant savings.
In a statement on Thursday, Mr Attwood said: "The new consultation now creates space to escalate the argument that the jobs in Coleraine must be saved and that what is happening in Britain does not happen here."
"The impact of closure of DVA licensing would be great. The job losses would be big. To offer help to Northern Ireland on one hand, with the recent economic pact, but on the other hand, to end up with 300 plus DVA job losses is not credible.
"These are the arguments that I will maximise in the new consultation working with the parties and political representations and unions. I believe there are good arguments to retain the jobs and I will work to achieve this," Mr Attwood added.