PSNI temporary staff contract 'eroding confidence'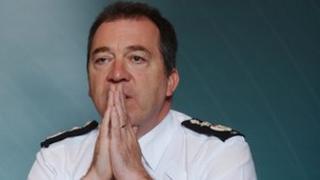 A money-saving PSNI policy of hiring temporary staff is eroding community confidence, Belfast High Court has heard.
Counsel for public sector union NIPSA also claimed policing legislation must return to the drawing board if a blueprint for overhauling the force is being abandoned.
Legal proceedings have been brought in a bid to establish Chief Constable Matt Baggott acted unlawfully by authorising the recruitment of outside civilian staff to provide support services.
The contract with Resource NI for short-term workers to perform duties including escorting and guarding could run until 2019 and is worth up to £180m.
But it has been claimed the arrangements breach the Police (NI) Act 2000, brought in as part of the Patten reforms of policing in Northern Ireland, because investigatory duties are also involved.
NIPSA's challenge is being heard alongside a case taken by the mother of a loyalist murder victim seeking to stop former RUC men being rehired.
'Thwart investigation'
Vivienne McCord claims officers who received generous severance packages were returning by "the back door".
Her 22-year-old son, Raymond McCord Jr, was beaten to death before his body was dumped in a quarry near north Belfast in 1997.
No-one has ever been convicted of the former RAF man's murder.
His killing was at the centre of a damning report by former Police Ombudsman Nuala O'Loan which established evidence that rogue RUC Special Branch officers colluded with a north Belfast UVF gang responsible for up to 16 deaths.
Mrs McCord fears that bringing ex-policemen back in to help with historical inquiries may thwart efforts to establish the full circumstances surrounding her son's murder.
On the first day of the hearing it emerged that two retired RUC officers are involved in a new investigation into the killing.
According to police, the pair were not involved in the original probe, had not been members of RUC Special Branch, and are only playing a limited role in the current investigation.
The PSNI has also maintained that the disputed contract makes commercial sense because it does not have to recruit full-time staff on a long-term basis.
But Frank O'Donoghue QC, for NIPSA and Mrs McCord, argued that this was no justification.
He told the court: "The rights of the community to be served by a police force which accords with the statutory framework is being eroded by the policy of contracting out.
"It may be a cheaper service, but it's not the service intended by the legislation."
Mr O'Donoghue contended that saving money does not get round any breach of the Act.
"This all needs to go back to the drawing board," he said.
"If the intention now in 2013 is to save money let's forget about all the ambition in 2000... and the legislation needs to be fundamentally redrafted."
Even if it is established that the Chief Constable had the authority to enter the contract, the barrister claimed he failed to seek approval from the Policing Board and Department of Finance and Personnel.
The PSNI, which rejects the contention that Mr Baggott has acted outside the law, is due to set out its case on Friday.