Legal challenge to GAA's Casement Park £70m redevelopment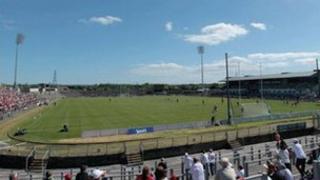 Ulster GAA chiefs are facing a legal challenge over the planned £70m redevelopment of Casement Park stadium in west Belfast, it has emerged.
Two construction firms whose combined bid for the contract was unsuccessful have launched High Court proceedings to try to re-enter the tendering process.
Papers were lodged on behalf of Lagan Somague, a joint venture involving firms from NI and Portugal.
A new stadium is to be built on the site at a cost expected to top £70m.
Most of the funding is coming from the Northern Ireland Executive through the Department of Culture, Arts and Leisure (DCAL).
The redevelopment forms part of an overall £110m investment plan involving upgrades to the Ulster rugby ground at Ravenhill and Windsor Park football stadium.
A legal challenge by local soccer club Crusaders to the Windsor Park proposals is ongoing.
Now, however, proceedings have been brought against the GAA's Ulster Council.
Protest
The case is expected to centre on its duty as a contracting authority under European procurement regulations.
Lawyers for Lagan Somague are expected to argue that they have been wrongly knocked out of the tendering process.
An initial hearing is expected to take place in court next week.
Earlier this month, residents living close to Casement Park held a protest before the Ulster senior championship game between Antrim and Monaghan.
They gathered outside the ground on the Andersonstown Road in opposition to the proposed new 38,000-seater stadium.
They are worried about the height of the stadium blocking out natural light and its potential use for concerts.
Work on the redevelopment is due to begin before the end of the year.
The work is expected to last for 21 months and be completed by 2015.