Chief Constable Matt Baggott 'free to hire temporary staff'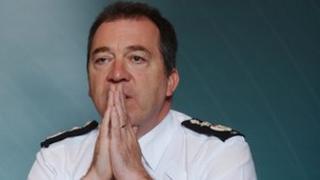 Chief Constable Matt Baggott does have legal power to spend his budget on hiring temporary civilian staff, the High Court has heard.
A judge was also told how a blueprint for reforming policing envisaged former officers potentially providing services on a management buy-out basis.
The PSNI is facing a challenge to its plan to bring in outside staff.
A public sector union claims the deal with Resource NI for the provision of support workers is unlawful.
But senior counsel for the police argued that the case has now shifted to an acceptance of aspects of the contract, which could be worth up to £180m.
The lawyer also set out how sweeping changes to policing in Northern Ireland drawn up by the Patten Commission had dealt heavily with civilianisation of the force.
Management buy-out
Although not every recommendation was implemented in the Police (Northern Ireland) Act 2000, the court heard how it intended that services such as transport, IT and communications should be contracted out.
Police counsel said the plan included ex-RUC men and women who left as part of the overhaul being able to contract for certain infrastructure work.
"Patten himself envisaged a management buy-out by former police officers," the barrister said.
The challenge by the Northern Ireland Public Service Alliance (NIPSA) is being heard alongside a case taken by the mother of a loyalist murder victim seeking to stop former RUC men being rehired.
Vivienne McCord fears bringing ex-policemen back in to help with historical inquiries may thwart efforts to establish the full circumstances surrounding the killing.
Her 22-year-old son, Raymond McCord Jr, was beaten to death before his body was dumped in a quarry near north Belfast in 1997.
Autonomy
His murder was at the centre of a damning report by former Police Ombudsman Nuala O'Loan that established evidence that rogue Special Branch officers colluded with a north Belfast UVF gang responsible for up to 16 deaths.
Both NIPSA and Mrs McCord want the contract with Resource declared unlawful.
But police counsel said that Patten intended for the chief constable to be the accounting officer with autonomy over how he spends his budget.
"The fundamental constraint is he must spend his budget for police purposes," he told the court.
"Provided he does spend it for police purposes he is doing nothing unlawful.
"What flows from that, and the drawing board of Patten, is that the chief constable is empowered to spend his resources for police purposes, including to contract out services."