Belfast teenager Lee Rice jailed for flag protest rioting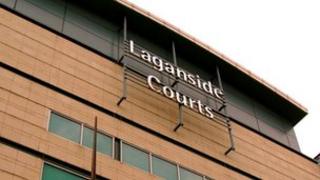 A Belfast teenager who was described as an habitual flag protester has been jailed for seven months for rioting.
Lee Rice, 19, from Felt Street in the Sandy Row area, pleaded guilty to rioting on the Donegall Road.
Belfast Crown Court heard that Rice had attended 13 protests and marches in south Belfast.
Protests began after Belfast City Council voted to restrict the number of days the union flag could fly over city hall.
The charge Rice admitted related to him throwing bottles and stones at police during 30 minutes of sustained rioting on 7 December 2012.
A prosecution lawyer said police footage showed Rice with a wheelie bin full of bottles which he hurled in the direction of Police Service of Northern Ireland (PSNI) officers.
Rice claimed he was throwing missiles at police Land Rovers, not PSNI officers.
After his release from jail, Rice will spend another eight months on licence.