Police hunt duo after east Belfast hijacking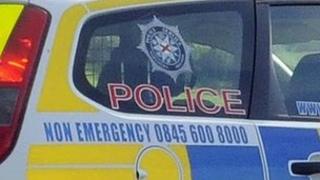 Police are searching for two men after a car was hijacked in east Belfast.
The men pulled a woman from her red Ford Focus at Isthmus Street in the Woodstock Road area around 10:30 BST on Monday, and drove off in the car.
Earlier two men had failed in a car-jacking attempt, and had also tried to steal another woman's handbag.
The men are described as being in their 20s and with local accents. One was wearing a black top and the other a grey tracksuit.
The first attempted hijacking was at about 10:15 BST when they tried to get into a car at Jocelyn Avenue while a woman was inside.
When they failed, the men made off along Woodstock Road and attempted to steal a handbag from a woman close to the Credit Union building.
A family member assisted her and the men ran off, chased by members of the public.
The woman sustained injuries to her head, neck and left arm and was taken to hospital for a check-up.
Police have asked anyone with information to contact CID at Musgrave station on 0800 600 8000, or Crimestoppers anonymously on 0800 555 111.